Packaging trends in pet food production
Views:523 Author:Site Editor Publish Time: 2021-01-09 Origin:Site
Packaging
is king in the growing market for premium dog and cat food
Pet food shoppers, especially people seeking premium products, are paying more for packaging that is more sustainable, has an upscale look, or comes with convenience and freshness features.
Packaging has a key role in the pet food industry's robust growth, especially for premium products. The bag or container enables manufacturers to stand out with cat and dog owners who want sustainable options, personalized pet diets and ingredients that even humans find appealing.
Shoppers have shown they are willing to pay more for sustainable packaging and convenience features like handles and stay-fresh zippers. When you buy your beloved dog or cat the best food you can afford, you really don't want it to get stale or spill from an open bag.
Flexible packages and lighter containers with premium protection and HD printing help processors tap into booming pet ownership and react to trends like wet treats, high protein content and CBD supplements. As U.S. pet food production has become safer under FSMA, packaging reflects transparency, showing the food through windows and highlighting natural ingredients.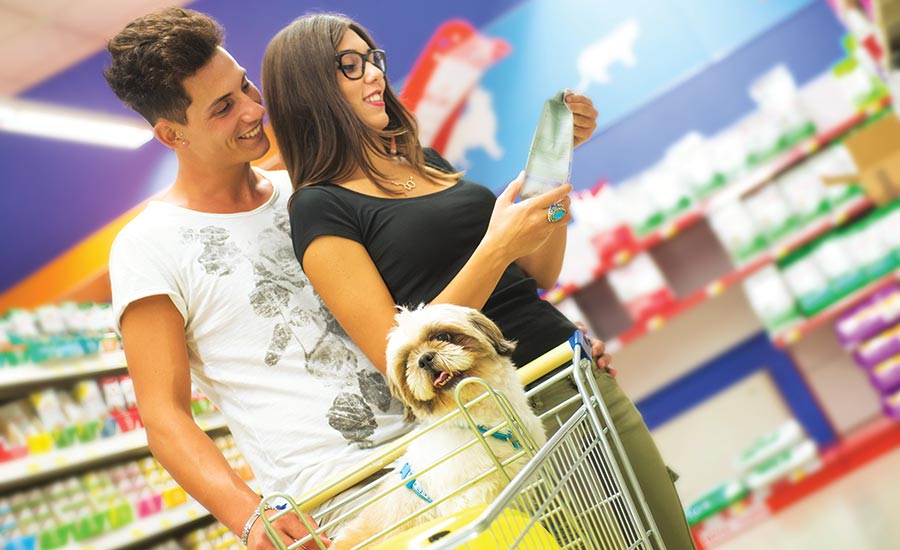 What Brands Want
With so many different pet food varieties on the shelves, brand owners are looking to differentiate themselves with brighter colors, high-end graphics and a variety of resealable closures. Whether it be formats such as pouches and quad-seal bags, stand out graphics or unique finishes and printing techniques, brands are looking for that creative "pop" on the shelf.
From an operational perspective, the packaging must be compatible with the filling equipment and supply chain to meet the manufacturer's efficiency needs.
Many innovations are centered around three basic themes: sustainability, functionality or convenience and differentiation. There's a lot of information available showing that consumers will pay more for most of these attributes.
What's Next?
The sustainability trend will certainly continue to grow in importance. Along with sustainability, increased functionality and shelf appeal remain important. But Without question, sustainability will remain a primary consideration in the design and development of pet food packaging moving forward.